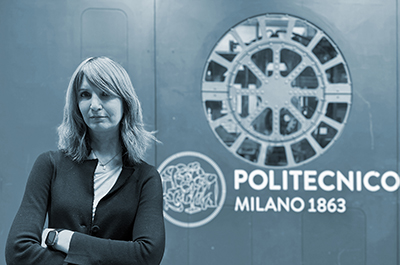 Sara Muggiasca, PhD in Mechanical Engineering and Associate Professor of the Department of Mechanical Engineering, was recently nominated Scientific Director of the Wind Tunnel of Politecnico di Milano (GVPM). Here's what she shared with us during the interview.
Congratulations on being the new Scientific Director of the Wind Tunnel. Tell us how your path led to reaching such a successful result.
It all started with my Bachelor's in Mechanical Engineering at Politecnico di Milano. After that, I spent at Polimi my entire academic career: Master's Degree, PhD, up to my current position as Associate Professor. I set foot in the Wind Tunnel for the first time during my Master's thesis. It almost happened by chance (but isn't it what usually happens with all life-changing opportunities?) as I was looking for a research topic for my Master's thesis in the railway industry when they offered me to work on lateral aerodynamics of trains. Ever since, experimental aerodynamics has become my favourite research topic, other than being my scientific passion. During my PhD, I worked as a technician at the Wind tunnel, which was then at the beginning, so it can be said that I feel like a part of its history.
What does this new position mean to you?
First of all, it is a great joy and personal satisfaction. This is the lab where I started "toddling" -speaking of my academic career. But it is also very satisfying for me as it means, on the one hand, being rewarded for the many hard-working days in the Wind Tunnel and, on the other hand, because it is a challenge and, therefore, an opportunity to give my contribution in an even more effective way.
Which are your goals as Director of the Wind Tunnel?
The Wind Tunnel is a laboratory of excellence that, in recent years, has significantly grown from a technical, organisational and managerial point of view. First, I would like to contribute to preserving and improving current standards. Beyond the more strictly technical objectives, I would like to promote the interdepartmental nature of the laboratory by stimulating collaboration between colleagues and research groups. My mentors have passed on to me the awareness that, in a job like ours, the strength of teamwork is also essential for personal growth, and I would like to reinforce this vision. Moreover, I strongly care about the international visibility of the Wind Tunnel both to encourage collaboration with other universities and to compete with similar laboratories in Europe and around the world.
How can wind tunnels support (international) companies in research and development?
The Wind Tunnel is an essential tool in designing several structures subject to wind interaction requiring an aerodynamic design that can not be provided with standard designs. Wind turbines, bridges, and buildings are just a few examples of structures that benefit from the testis in the wind tunnel to improve their design. These tests allow for ever more innovative designs. Even in sports, e.g. cycling, the aerodynamic study of accessories and materials can improve the athlete's performance. The university context of GVPM Wind Tunnel can provide added value, given its natural inclination for research and study.
Tell us which project you're most proud of, or which project you'd like to work on next.
I am proud of many projects: many I recall for emotional and personal reasons, others for being particularly challenging, and others for their high scientific content. Sure, one of the most engaging activities was the aerodynamic study of the Messina Straits suspension bridge because it offered me the chance to work in a large group with very expert colleagues on topics of great scientific interest. Another very challenging project involved the creation of a large model of a rotating cylinder: the satisfaction of seeing it physically functioning was priceless and, still, the result of teamwork. In recent years I have been working a lot in the renewables field. In addition to the scientific aspects, it is of great interest also because of its social implications.
What piece of advice would you give to a girl or boy who wants to learn more about experimental aerodynamics?
The experimental activity requires both learning and practice: you must study but also 'get your hands dirty'. Experimenting requires observation: for this very reason, the only advice I feel giving is to put yourself to the test in a lab and get involved in the preparation and implementation of experiments. For instance, the Wind Tunnel hosted many young researchers and can be the right place where to gain experience.