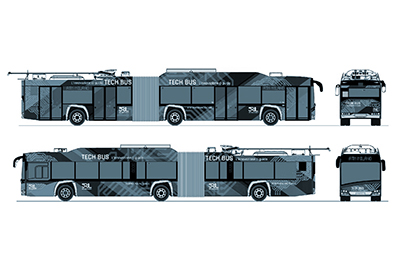 Comune di Milano, ATM and Politecnico di Milano, along with Vodafone and IBM, recently presented the TECH BUS project about the very first trolleybus developed during an innovative research project on mobility implementing cloud hybrid technologies supporting assisted driving and connected to the 5G network.
This represents the first step towards fully autonomous driving in the framework of the Joint Research Lab (JRL) for Urban Mobility. A research project to make Milan smarter and greener, experimenting on a connected, eclectic and semi-autonomous mobility working with partners leader in research, technology and transportation to improve the integration and security of people and tourists moving around the city.
The first innovation-driven trolleybus will travel on route 90/91. The smart sensors onboard will exploit the V2I (Vehicle to Infrastructure) communication, which will allow a constant dialogue between the bus and the traffic lights and the road infrastructures. This interaction will contribute to creating a cooperative mobility ecosystem where technologies improve road safety and a step closer towards the new frontier of fully autonomous driving of tomorrow.
The team - made of researchers, engineers, and technicians of the JRL -has recently installed onboard an ATM trolleybus the sophisticated equipment. Thanks to the 5G network and applicative interactive user interfaces based on the open integration platform IBM Watson IoT, this equipment allows the dialogue and continuous information exchange between the vehicle and the road infrastructure.
During this first phase, the team has collected data to develop assisted driving cooperative systems based on V2I communication to be tested via a series of use cases:
Communication with traffic lights (notify a green wave to the bus driver);
Crossroads monitoring;
Bus stop control (number of passengers).
Prof. Federico Cheli, head of the DMEC part of the project, explained: "DMEC was in charge of the vehicle sensorization. At the moment, we are working along with our partners of the project to develop V2I communication systems, which will later support cooperative intelligent transport systems for driver assistance. For example: about the first use case, we are working on an algorithm that, by processing the information collected from the devices installed on the infrastructures, suggests to the bus driver the running speed to "catch" the traffic lights green wave to offer a more efficient and comfortable service to the passengers".