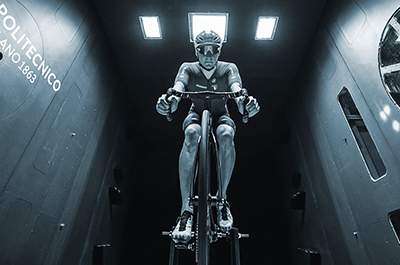 Four years after Rio de Janeiro and the extraordinary success in the omnium, Olympic gold medalist Elia Viviani returns to the Wind Tunnel of Politecnico di Milano (GVPM) to enhance his aerodynamic performance in view of Tokyo 2020. Viviani, born in Isola della Scala (VR) in 1989, will compete in the multiple race event in track cycling, Olympic specialty since 2012, trying to repeat the Brazilian success.
Inside the Wind Tunnel Viviani carried out a series of aerodynamic tests to find the optimal configuration of the equipment he will use during the race: with the support of the technical staff of the GVPM, Stefano Giappino, Luca Ronchi, Umberto Spinelli, MeccPolimi researchers Claudio Somaschini and Simone Omarini, and in collaboration with the Italian Cycling Federation, the athlete tested different aerodynamic solutions to investigate the performance of different bodysuits. By comparing the results, they were able to identify what will be the ideal combination for the Olympics.
Viviani appeared satisfied of his performance at the end of a long afternoon session: "I am always very thrilled to train here in the Wind Tunnel of PoliMi, as these tests are extremely important for my preparation, in particular in view of Tokyo 2020".
The wind tunnel section dimensions and the flow quality make this extraordinary laboratory ideal for applications in the research area of sports aerodynamics: the GVPM set-up is today among the most advanced in the sector and has been developed over the years thanks to a long series of collaborations with teams, component and clothing manufacturers. Recently, professional athletes such as Alberto Contador, Filippo Ganna, Rui Costa, Philippe Gilbert, Adam and Simon Yates, Luke Durbridge, Anna van der Breggen and Silvia Valsecchi performed several tests in our Wind Tunnel.
Marco Belloli, Full Professor of the Department of Mechanical Engineering and responsible of the dedicated research team, highlights the added value of this collaboration between Politecnico di Milano and the Italian National Cycling Team: "We are particularly happy and proud to have worked with Elia Viviani, and to have shared with him a small part of the journey to Tokyo 2020; our goal is to help athletes, with our research activities, to improve and optimize their performances in view of the most challenging competitions".
Photo credits: Federico Ravassard